Komitet Centralny EPIX wzywa Delegatów do przygotowania się do
Bloku Paneli Wymiany Doświadczeń

2016-09-19 w godzinach 15:00 – 18:00 w Sali Plenarnej Delegaci będą poruszać najistotniejsze dla Łącznościowców tematy:
Każdy zatrudnia pracowników – czy można robić to lepiej?
Każdy Inwestuje – ale czy każdy wystarczająco dobrze i szybko amortyzuje?
Każdy płaci opłaty i podatki – ale czy można by płacić mniej?
Każdy musi wiele raportować – ale czy każdy robi to idealnie?
Panel współpracy między-operatorskiej – opis przypadku.
EPIX – Co robi każdy wie! A co robić więcej powinien?
Zachęcamy do przeprowadzenia analizy powyższych zagadnień u siebie w firmie.
Dlatego też przygotowujemy ściągę, czyli zestaw pytań, które ISP/TVK powinien zadać Sobie, swojej księgowej, swoim pracownikom.
Mają one pomóc Ci w czasie dyskusji panelowych. Zainspirować do pochylenia się nad tematami, których wcześniej dogłębnie nie przeanalizowałeś.
Potraktuj to jako zadanie domowe wykonania audytu wewnętrznego w swojej firmie.
Wydrukuj PDFa.  Rób notatki DLA SIEBIE, nie będziemy zbierać tych kartek.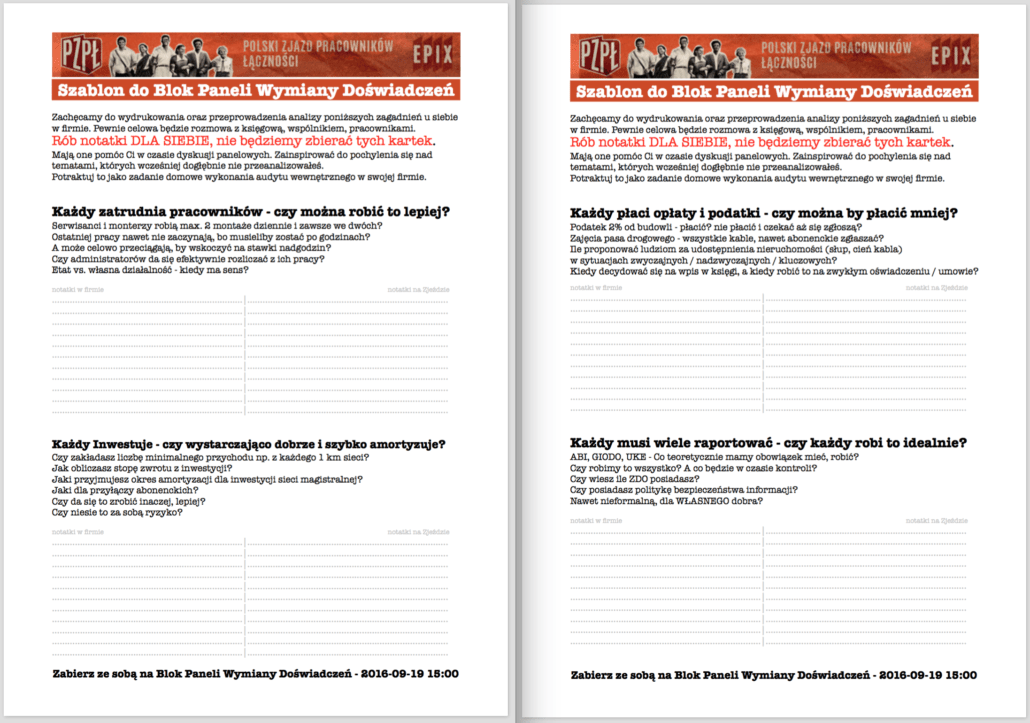 2016-09 EPIX PZPŁ Blok Paneli – Szablon audytu
Komitet Centralny EPIX nadludzkim wysiłkiem pracuje nad organizacją Zjazdu.
Będziemy na bieżąco informować o rozbudowie Programu.
Źródło operacyjne:
http://zjazd.epix.net.pl