W dniach 3-4 października udostępniliśmy na próbę czeskie (głównie NIX) prefixy w openpeeringu EPIX.
Ruchu do nas poszło sporo, bo ponad gigabit (w środku tygodnia):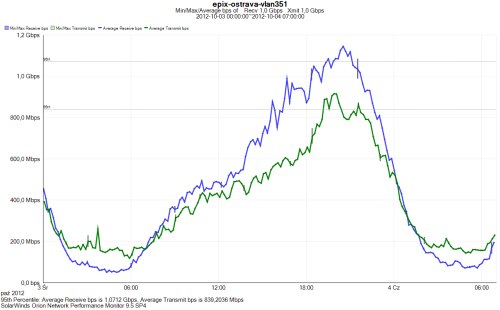 Nasz partner w Czechach odczuł to widocznie na swoim linku do NIXa:

Wnioski są następujące:
1. Prefixy dostępne w czeskich IXach stanowią ponad 15% światowego Internetu (porównując z pasmem global, które w moich obliczeń zużywacie).
2. Pasma jest za dużo, aby próbować go po prostu wrzucać w openpeering, bo jego cena (0.65EUR loco Ostrawa) jest zbyt duża, aby próbować to finansować z worka kosztów lub rozliczać jakimś ryczałtem. Niestety daje się we znaki to, iż mamy łącze do Ostrawy, a nie Pragi, to się pewnie zmieni w przyszłości jak wolumen czeskich usług wzrośnie do poziomu uzasadniającego łącze bezpośrednie.
Dlatego też pozostawiam dostęp do tych prefixów zainteresowanym jako osobną usługę, czyli CZ-IX (https://www.epix.net.pl/oferta/uslugi-ip/). Wkrótce będzie ona taniała, z racji zbliżającego się zbilanowania kosztów stałych łącza do Ostrawy i sądzę że jej cena będzie dążyła do 3PLN).
Myślę też, że w przyszłości po prostu domixujemy to pasmo do wymarzonej przez nas usługi EU-IX, czyli worka z prefixami europejskich IXów (decixa, amsixa, linxa, atrato), który planujemy stworzyć, jak uda się załatwić tanie pasmo bezpośrednio do nich (lub znaleźć partnera, który nam sprzeda na megabity 😉 )
Zapraszam do dyskusji w tym temacie na forum EPIX:
https://www.epix.net.pl/forum/peeringi-miu0119dzynarodowe/peering-z-czeskimi-ixami/
https://www.epix.net.pl/wp-content/uploads/2021/06/epix-320x156-header.png
0
0
Webmaster EPIX
https://www.epix.net.pl/wp-content/uploads/2021/06/epix-320x156-header.png
Webmaster EPIX
2012-10-07 08:49:46
2014-10-17 10:14:09
Testy peeringu z Czechami – wynik.