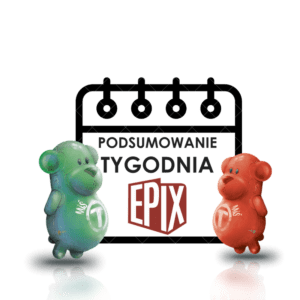 Czujemy się w obowiązku poinformować, że załoga e-Południe/EPIX przebywa w dniach 2018-05-07 do 2018-05-09 na naszym MIŚOT MEETING w Wiśle.
Może to być przyczyną opóźnień w komunikacji z nami, przepraszamy.
Oczywiście obsługa techniczna w postaci NOC i BOU EPIX jest w komplecie i na posterunku, do Waszej dyspozycji.
Z przyjemnością informujemy iż w ubiegłym tygodniu w EPIX opublikowano informacje o kolejnych MiŚOT-ach, które obdarzyły EPIX zaufaniem:
SGT S.A., dostawca rozwiązań IPTV dla MiŚOT dokonał upgrade styku z EPIX.Katowice do 170Gbps.
Sumaryczna przepływność styków Operatora z EPIX wzrosła do 250Gbps.
MiŚOT TELEKOMUNIKACJA PODLASIE z Białegostoku, legitymujący się EPIDem [TELEPODLAS] jest kolejnym Uczestnikiem:
– posiadającym drogi transmisyjne do EPIX.Katowice oraz EPIX.Warszawa, realizowane przy pomocy niezależnych łącz,
– realizującym redundancję z wykorzystaniem usług IP EPIX w dwóch naszych węzłach.
Do grona Uczestników EPIX.Warszawa-KIX dołączyła firma Cloudflare Inc. z USA, dostawca treści – CDN i między innymi rozwiązań buforujących, optymalizujących, zaawansowanych zabezpieczeń (w tym antyDDoS) oraz bezpiecznego DNS (1.1.1.1).
Więcej EPIX-owych wiadomości zawsze znajdziesz na stronie:
https://www.epix.net.pl/category/wiadomosci/
Zachęcamy także do subskrybcji MiŚOT-owego kanału na Youtube, na którym regularnie publikujemy nasze filmy. Najnowsze to wideorelacje z jesiennego MiŚOT Meeting z Poznania. Link do kanału poniżej:
https://www.youtube.com/channel/UCCjxl2ju4z8-aQLY4cErc0w/featured
Dziękujemy za kolejny tydzień z EPIX.
https://www.epix.net.pl/wp-content/uploads/2021/06/epix-320x156-header.png
0
0
Michał Koch
https://www.epix.net.pl/wp-content/uploads/2021/06/epix-320x156-header.png
Michał Koch
2018-05-07 11:30:25
2018-05-07 09:32:29
Podsumowanie 18 tygodnia 2018 roku w EPIX