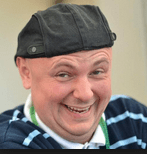 Szanowni koledzy branżowi!
Z góry przepraszamy, jeśli nie jesteście zainteresowani tym mailem, ale skoro go już czytacie, poświęćcie mu chwilkę…
Nie wszyscy kojarzą (a może jednak?) oprogramowanie do monitoringu sieci online, które wypuścił MikroTik pod nazwą The Dude. Niestety rozwój tego oprogramowania utknął w szarej d…ziurze – nie ma nowych wersji, nie ma żadnych informacji nt planów rozwojowych, a na wszelkie pytania w tej sprawie Łotysze odpowiadają milczeniem lub informacją "nie teraz".
Koledzy z innych krajów stworzyli petycję do MikroTika, by Łotysze uwolnili kod aplikacji, by środowisko administratorów-developerów wprowadziło niezbędne poprawki (m.in. ogarnięcie problemów z sqlite3, poprawki interfejsu etc), więc potrzebujemy Twojej pomocy!
Pod adresem:
https://www.change.org/p/mikrotik-release-the-dude-source-code?recruiter=375032388&utm_source=share_petition&utm_medium=copylink
znajdziesz petycję po angielsku, która, mamy nadzieję, zmieni coś w podejściu Łotyszy do naszych problemów.
Serdecznie dziękuję za poświęcony czas.
Z poważaniem
Przemysław 'djrzulf' Knycz
https://www.epix.net.pl/wp-content/uploads/2014/10/epix_logo.png
0
0
Webmaster EPIX
https://www.epix.net.pl/wp-content/uploads/2014/10/epix_logo.png
Webmaster EPIX
2015-10-13 13:13:02
2015-10-13 13:13:53
Petycja w sprawie uwolnienia kodu The Dude Mikrotik'a.